27 Aug

STC11 Groupstage Preview
Written by wormi in Competition / Trackmania² Stadium
Stadium Team Championship is back with the eleventh edition and overall the second in Trackmania 2 Stadium side. Last year we saw Team Acer winning the competition against Team Dignitas straight 2-0, but the rounds were closer than the score might make it look like. We got to see some drama around the race, as at first Acer forgot to answer about the match time early enough, which basically gave Dignitas a change to take a defwin. Nevertheless, after some discussion and frustration the match was played. The biggest thing was probably that the final was the last match for

Kalle "frostBeule" Videkull, as the legendary Swede ended his long career after it, taking the only title he previously hadn't gained.
Now Acer is finally back following the hiatus since

Michael "PokeR" Neuhold and

Guiseppe "B3pp0'92" Casella left the team earlier this year. We have also seend BX3 falling and new teams such as Begrip joining the scene. Moreover, a rulechange to allow mixteams brought up the outlaws team with numerous top players, such as

Marek "tween" Pacher. Several groups will have one clear favorite, but the fight for playoff spots will be hard.
Here we see the six divisions from the homepage of STC11: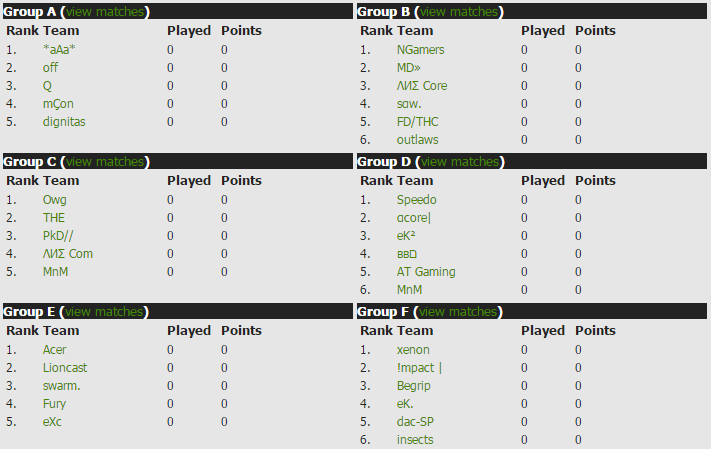 In the next pages we will go through the teams in groups, checking the favorites and dark horses.