30 Aug

ESL DNC#14 - Boss.Wanted wins !
Written by Deejay in Competition / Trackmania² Stadium

One week after the end of DPS#3, the

ESL TrackMania² Stadium| DIRT staff cameback with the 14th Dirty Night Cup !
A newest winner
On this Dirty Night Cup#14, 61 players registered and in only 1 minute, the 32 slots planned for this cup were full ! That was for sure one of the fastest check-in ever ahah! The mappack was a mix of several DPS#3 maps so, the players already knew them and it was a good choice to close the season and waiting the new one with UDT.
Two surpises ruled this DNC : The elimination of

Gswe81 in semi-final, who was a real favorite for the win , and the second surprise was the qualification of

Barros, a not really known player on the Dirt scene, for the final ! The four players qualified for the grand final never won any Dirty Night Cup, so we were sure to have a new winner this time!

Yoshi,

Boss.Wanted,

Barros and

Néo fought hard during one hour and after a great performance, Boss.Wanted managed to win his first DNC ahead Néo, Yoshi completed the podium and Barros finished 4th.
Podium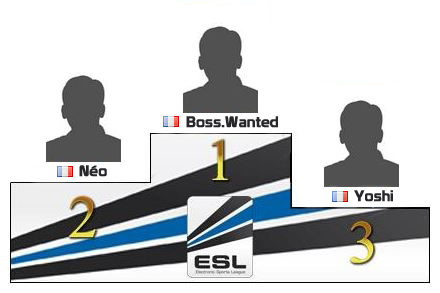 [FR] VOD by TmLive