22 Dec

NDC 2014 - GRAND FINAL !
Written by Deejay in Competition / Trackmania² Stadium

The Nations Dirt Cup is back for a new season, this time hosted by ESL ! Check-out the groups and the results weeks after weeks !
Playoffs :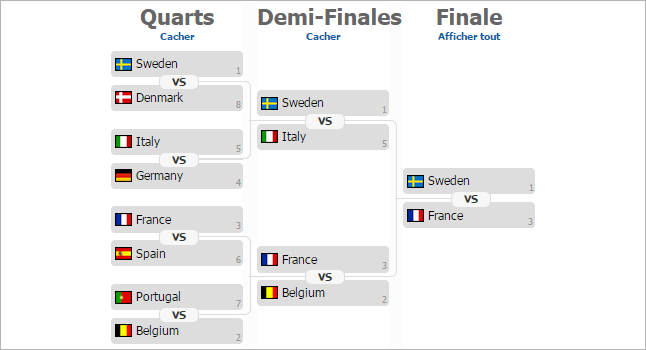 PLAYOFFS: SEMI-FINALS
After the unexpected elimination of Germany last week, there were no suprise during these semi-finals and the "Classico" of TM, FRANCE vs SWEDEN is back for this NDC 2014!

Belgium wasn't able to beat

France despite their really strong line-up this season. After a first map well fought by each others (7-5), France managed to win the two last maps (7-1 / 7-1) for a final score of 21-7. The second semi-final between

Sweden and

Italy really looks like the first one: the first map was conclued (7-5) by Sweden, but rounds after rounds, they were stronger and finished the two other maps (7-1 / 7-4) for a final score of 21-10. The final and the small final will takes place in the two upcoming weeks.
France

21- 7

Belgium
Sweden

21 - 10

Italy
PLAYOFFS: QUARTER OF FINALS
What a surprise during these 1/4 of finals ?!

Italy just defeated

Germany, which was finalist last year, on a 17-14 score! Italy will have to fight versus the great

Sweden, which just beat

Denmark 20-0 this week-end, to go in the grand final! Focus on the two other matchs now,

France managed to win versus

Spain with a clear 20-1 score, and

Belgium beat

Portugal on a 21-11 score. The matchs for the 1/2 finals will be FRANCE vs BELGIUM & SWEDEN vs ITALY !
France

21 - 1

Spain

Belgium

21 - 11

Portugal

Germany

14 - 17

Italy

Sweden

21 - 0

Denmark
Group stage :
General Ranking :
The group phase is now over, after 3 years of defeats,

Team Sweden finaly won versus

Team France on the last pool's day. Lights on the great performance from

Team Belgium too, which managed to win versus

Team Germany. The two finalist teams of the last edition let Belgium and Sweden fill their confident's tank for the rest of the cup! Teams

Anzac

,

Czech and

Brazil are now eliminated of the tournament. Let's the Playoffs begin !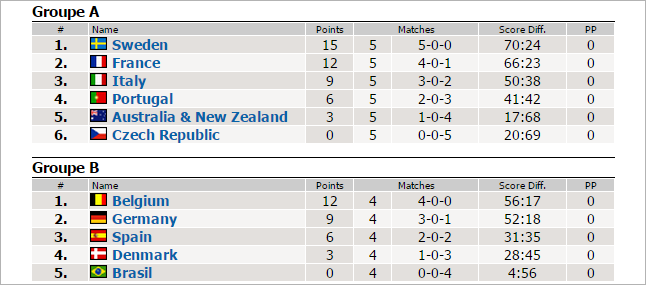 Day 5 : RESULTS
Brazil

0 - 14

Spain

Belgium

10 - 9

Germany

France

10 - 14

Sweden

Italy

14 - 3

Czech Republic

Anzac

0 - 14

Portugal
Day 4 : RESULTS
Brazil

3 - 14

Denmark

Belgium

14 - 1

Spain

France

14 - 1

Italy

Sweden

14 - 2

Anzac

Czech Republic

0 - 14

Portugal
Day 3 : RESULTS
Belgium

14 - 6

Denmark
Germany

14 - 2

Spain

France

14 - 1

Anzac

Sweden

14 - 1

Czech Republic
Italy

14 - 6

Portugal
Day 2 : RESULTS
Spain

14 - 7

Denmark
Germany

14 - 1

Brazil
France

14 - 3

Portugal
Anzac

13 - 12

Czech Republic
Italy

7 - 14

Sweden
Day 1 : RESULTS
Belgium

14 - 0

Brazil
Germany

14 - 1

Denmark
France

14 - 4

Czech Republic
Anzac

1 - 14

Italy
Portugal

4 - 14

Sweden
Groups :
Groupe A :

Sweden

/

France /

Italy

/

Portugal

/

Anzac

/

Czech-Republic

Groupe B :

Belgium /

Germany /

Spain /

Denmark /

Brazil